Miss your NBA fix last night? In three minutes or less, the TDC's Morning Announcements gives you the brief rundown of the standout stat lines, exciting finishes and some rarities that went down on the hardwood last night. On a busy evening where you miss the live action and/or the scintillating thrill of NBA Twitter scrolling, we have done the work for you and compiled notable lines and events.
Spend three minutes reading this every day to keep up with the Association and have enough knowledge and nuggets to be in the loop with casual fans as well as the ability to toss out a few specific stats and oddities an avid fan may have missed.
B-ball Date: 11/01/2019 as reported by Sam Johnson, video by Jerin Varghese

Aced the Evening
Boston was given all they could handle at home by the frisky Knicks, but Jayson Tatum's nifty step-back game winner clinched it for the Celtics
LeBron James was at it again with a supersized triple double pouring in 39 PTS 16 AST 12 REB, adding 4 STL and 4 3PT for good measure as the Lakers came from behind to beat Dallas
He was nearly matched by Luka Doncic, who went for 31-15-13 himself on the losing end of this game
Harrison Barnes was in the right place at the right time as he rebounded a Kings miss and tipped in the winning basket with just 3 seconds to play, giving the Kings their first victory of the season
Quirks of the Night
Trevor Ariza played 32 minutes and compiled the following offensive statistics: 0 points, 0 FGA's, 0 FTA's, 0 (Offensive) REBS, 0 TO's first time in NBA history (https://www.basketball-reference.com/). He blew the glorious Perfect Bystander (zero offensive contribution) by adding 1 lowly assist.
Brooklyn coach Kenny Atkinson channeled his inner college football coach as he busted out defensive play cards – his featuring Dennis Scott crossed out, presumably to instruct his team not to allow a 3-pointer. (Houston, in typical fashion, got up a three that possession regardless)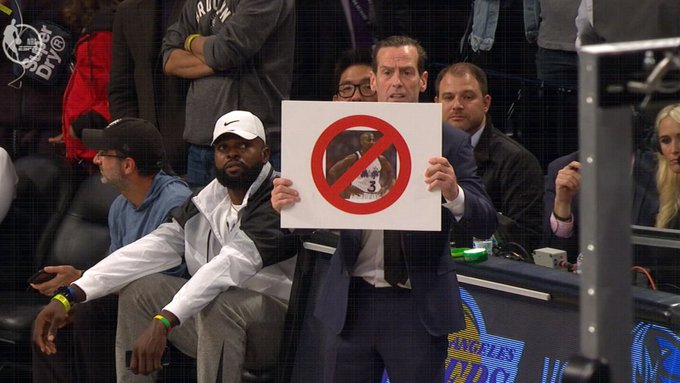 Needs Improvement
Cavaliers non-Sexton PGs, Darius Garland and Brandon Knight, combined to shoot 0/13 in 31 minutes of action totaling 2 whole points
The Warriors injury luck – this time Draymond Green suffered a sprained index finger (described as a ligament issue by Green) and is uncertain to play tonight
NBA Twitter Table Talk
Surely Kyrie is familiar with crossing people up, but this time he was on the other end of it as James Harden hit him with a nasty crossover in Brooklyn
Alex Caruso ROSE UP to poke a monster jam on Maxi Kleber – and all the people said amen