Miss your NBA fix last night? In three minutes or less, TDC's The Tip Off gives you the brief rundown of the standout stat lines, exciting finishes and some rarities that went down on the hardwood last night. On a busy evening where you miss the live action and/or the scintillating thrill of NBA Twitter scrolling, we have done the work for you and compiled notable lines and events.
Spend three minutes reading this every day to keep up with the Association and have enough knowledge and nuggets to be in the loop with casual fans as well as the ability to toss out a few specific stats and oddities an avid fan may have missed.
B-ball Date: 12/10/2019 as reported by Sam Johnson, video by Jerin Varghese

Honor Roll
Davis Bertans showed off some silky shooting on his way to a career high 32 points on the legs of a 8/12 performance from downtown against the Hornets. He was also a +17 in a game Washington lost. Something tells me the 30th in 3PT attempts Spurs would like to have him around this season.
It was a young man's game in Miami as the two leading scorers were rookies De'Andre Hunter (season-high 28 points) and Kendrick Nunn. Nunn's 36 points were the most for a rookie this season and 8th most in the past five years. After the game, Nunn was not overheard saying "maybe sometimes, we can take something from the preseason" but that doesn't mean he didn't say it.
The Heat starters were so impressive I darn near needed to feature them all. Duncan Robinson made 10 3PT's on his way to 34 points while Bam Adebayo (30-11-11) and Jimmy Butler (20-18-10) had dueling triple doubles. Just don't look at their bench production.
Sometimes I feel like this season is on a loop for me. Every time I'm on Tip-Off duty, Devonte' Graham balls out. 14 fourth quarter points (29 overall), 6 threes, and several crucial buckets down the stretch were some of the highlights this time around in Charlotte's victory. If you aren't watching any Hornets hoops, I urge you to take a peak just to see some Devonte' minutes – especially in crunch time.
Quirks of the Night
Admiral Schofield has now played in six consecutive games without logging a point, and in those 28 minutes has committed more fouls (5) than points, rebounds, blocks, assists, and steals combined (4).
The Miami Heat were flirting with the largest OT win margin in NBA history (17) as they started out the extra session on a 16-0 run. Atlanta picked a bad time to allow a 22-0 run as they actually led 117-111 with 1 minute left in regulation before the wheels came off. It's fairly rare to see the starters get pulled in OT due to the game being out of hand, but that's what happened in Miami.
Needs Improvement
Down by two points with 31 seconds left, the Wizards (wisely) chose to play defense over fouling, but then proceeded to needlessly run a double team at PJ Washington with 4 on the shot clock 25 feet from the hoop, who calmly dished it to a wide open Miles Bridges in the corner who then hit a dagger 3 to effectively ice the game.
I know I told you not to look, but Tyler Zerro was a -30 in 23 minutes in a game his team won by 14. If I'm doing my math correctly, Miami was then a +44 in the 30 minutes without him. How does that happen? Can we double check this?
Not that it is new, but I find the 76ers court design hard on my eyes. Maybe it was my TV but all of the white lines on the 3 point line, top of the key, and the lettering is just hard to look at. Either that or I was feeling too magnanimous to rag on another player's lackluster performance. You be the judge. (Also, enjoy this Big AL highlight)
NBA Twitter Table Talk
Carmelo Anthony had dreams of reuniting with the Knicks last summer as he discussed bringing Durant and Kyrie to New York along with him. Unfortunately for the Knicks, Carmelo and Kevin Durant were actually the only two Power Forward's they were not able to ink this past offseason. Melo seems to now be at peace in Portland.
JJ Culver (brother of 6th overall pick Jarrett) scored 100 points for his NAIA Wayland Baptist team last night and he posed with the iconic 'Wilt 100' sign.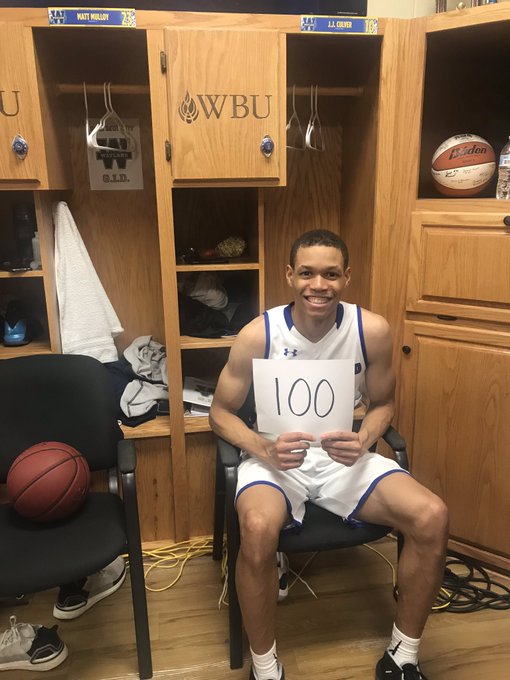 More entertainment courtesy of the Miami Heat: